IMPRESSIONIST ART | Exhibition 2021
Saturday, 2021-06-19 10:00 AM - Saturday, 2021-06-19 03:00 PM
ART247
exhibit, Call to Artists.
Artists are asked to explore the Impressionist style and create an original work/s of their own incorporating as many key ideas of the movement as possible.
ENTRY DEADLINE 
JUNE 19, 3 PM
Impressionism can be considered the first distinctly modern movement in painting. Developing in Paris in the 1860s, its influence spread throughout Europe and eventually the United States. Its originators were artists who rejected the official, government-sanctioned exhibitions, or salons, and were consequently shunned by powerful academic art institutions. In turning away from the fine finish and detail to which most artists of their day aspired, the Impressionists aimed to capture the momentary, sensory effect of a scene - the impression objects made on the eye in a fleeting instant.
IMPRESSIONIST ART KEY IDEAS
UNFINISHED APPEARANCE AND SEEMINGLY AMATEURISH QUALITY 
The Impressionists loosened their brushwork and lightened their palettes to include pure, intense colors. They abandoned traditional linear perspective and avoided the clarity of form that had previously served to distinguish the more important elements of a picture from the lesser ones. For this reason, many critics faulted Impressionist paintings for their unfinished appearance and seemingly amateurish quality. 
CONCENTRATING ON THE WORLD AS THEY SAW IT 
Picking up on the ideas of Gustave Courbet, the Impressionists aimed to be painters of the real - they aimed to extend the possible subjects for paintings. Getting away from depictions of idealized forms and perfect symmetry, but rather concentrating on the world as they saw it, imperfect in a myriad of ways.  
EPHEMERAL MOMENT IN TIME 
At the time, there were many ideas of what constituted modernity. Part of the Impressionist idea was to capture a split second of life, an ephemeral moment in time on the canvas: the impression. 
WHAT THE EYE PERCEIVES
Scientific thought at the time was beginning to recognize that what the eye perceived and what the brain understood were two different things. The Impressionists sought to capture the former - the optical effects of light - to convey the passage of time, changes in weather, and other shifts in the atmosphere in their canvases. Their art did not necessarily rely on realistic depictions. 
NEW SENSE OF ALIENATION 
Impressionism records the effects of the massive mid-19th-century renovation of Paris led by civic planner Georges-Eugène Haussmann, which included the city's newly constructed railway stations; wide, tree-lined boulevards that replaced the formerly narrow, crowded streets; and large, deluxe apartment buildings. The works that focused on scenes of public leisure - especially scenes of cafés and cabarets - conveyed the new sense of alienation experienced by the inhabitants of the first modern metropolis.
IMPRESSIONIST ART: 
9 ARTISTS EVERY ARTIST SHOULD KNOW:
Édouard Manet
Claude Monet
Edgar Degas 
Camille Pissarro
Pierre-Auguste Renoir
Mary Cassatt
Berthe Marie Pauline-Morisot
Gustave Caillebotte
Frédéric Bazille
 _______________________________________________
Reference: The Art Story | https://www.theartstory.org/movement-impressionism.htm https://www.timeout.com/newyork/art/top-impressionist-painters-in-art-history
---
TO ENTER THE SHOW: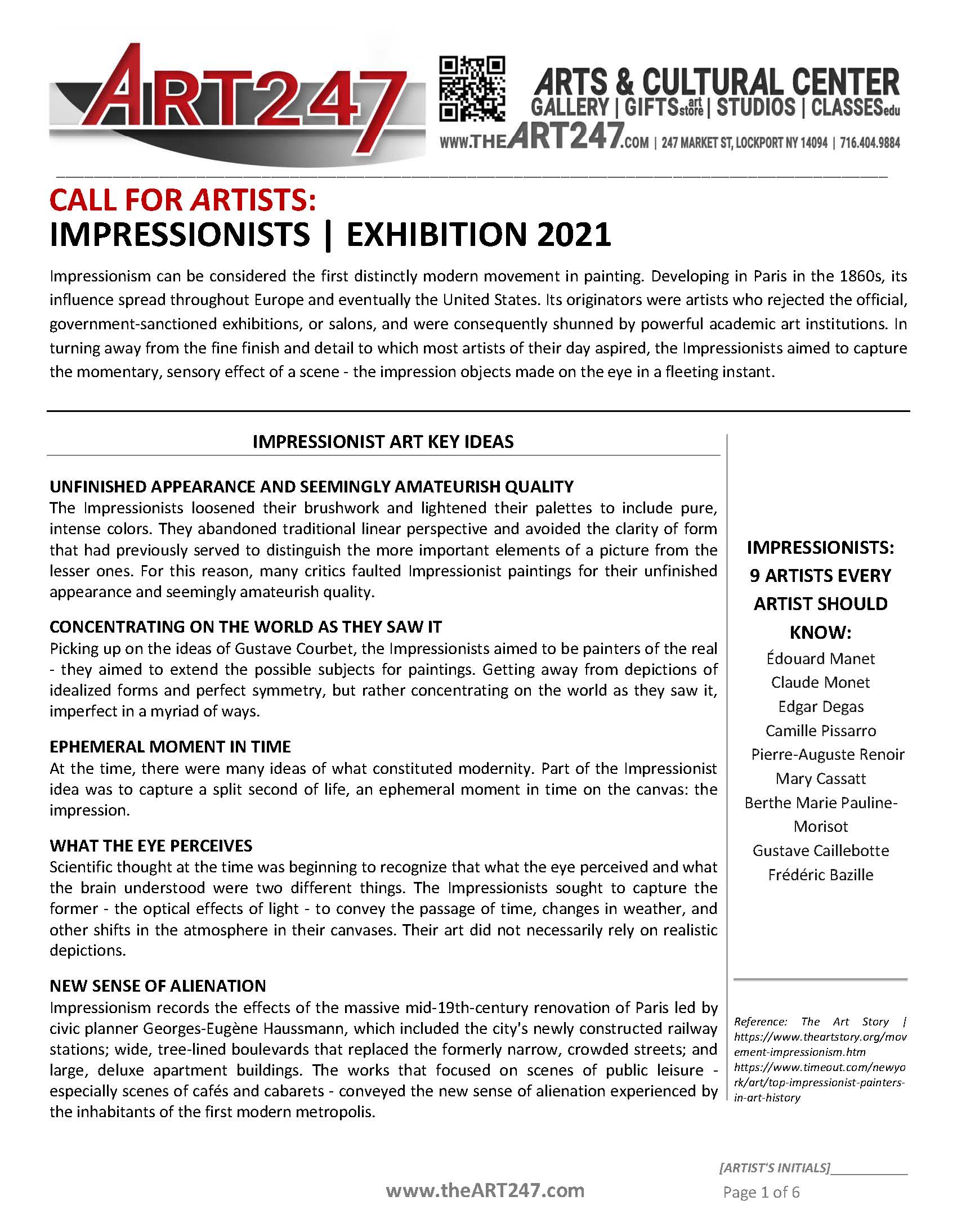 Read and complete the entry form, and provide at least 1 photo sample/s of each art/work being submitted, with submission fee. 
Entry Procedure:
Entry forms with samples/copies of work are preferred to be submitted in digital format to Gallery@theART247.com, however hard copy 4x6 photographs of the entries are also acceptable. You may submit up to four entries.  Entries should include two dimensional work (Oil Painting, Acrylic Painting, Watercolor Painting, etc.,) in the Impressionist style.  All entries must be original to the submitting artist. Work must be professionally mounted and/or framed.  Fees: The fee for entry is $35.00 to be submitted with your entry form. Checks should be made out to ART247, LLC. Drop off entry forms to ART247, 247 Market Street Lockport, New York 14094. 
Judging and Awards:
The entries will be juried by ART247 & Guest Jurors for 1st, 2nd, & 3rd place. Viewers Choice Award will be chosen at the opening reception by reception participants. All show winners will be invited to our year-end Award Winners Show, and recognized at our ART247 / Buffalo Niagara Arts Awards Gala.
Presentation:
Drawings, and photography must be matted and framed. Mats must be black, white or gray tone. Plexiglass is required for artwork 18" x 24" or larger.  Frame color is restricted to black, white, gray or silver. No uniframes that leave the edges of the glass exposed will be accepted. Oils and acrylics must be framed or have the edges of the canvas neatly finished. All two dimensional work must have screw eyes and wire in place ready for hanging.  No saw tooth or plastic clips will be accepted. All 3 dimensional work and sculptures must be able to stand unassisted on a flat surface or pedestal.
DETAILS and ENTRY FORM:
IMPRESSIONIST Exhibition 2021 Calendar Dates
Entries due between June 16-19 , 2021 ONLY 
     Notification of Inclusion given by June 23, 2021
Drop off June 24 - 26, 2021 10am - 3pm
Exhibition Opens July 3, 2021
Opening Exhibition Reception July 10, 2021 11am - 2pm
     Viewer's Choice awards will be announced during the event.
Exhibition closes August 1, 2021
Pick up date August 7 & 13 - 14, 2021 10am - 2pm