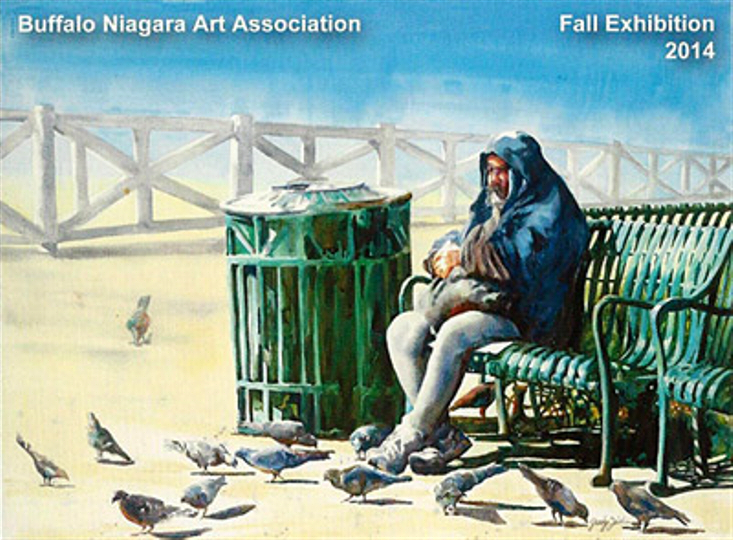 ART247 is a rich and diverse Arts Center overlooking the Historical Erie Canal in the designated National Historic District of Lowertown Lockport, NY. The Arts center originally founded as Market Street Art Studios by Art Hilger and Sally Bisher has developed a long history of providing arts and cultural education, lessons, and exhibitions to the Greater Niagara County community and beyond, as well as arts learning and studio spaces to regional artists. In January, 2016 ART247 became the guardian to ensuring the missions and goals of the Art Complex continue and grow.


Market Street Art Studios held many annual shows and exhibitions that continue with ART247:
Tis the Season
A Celebration of the Holidays
(Whalen Family Gallery)
An opening reception marks the beginning of The Market Street Art Studios Holiday show, "Tis the Season, a Celebration of the Holidays," on Saturday, November 22nd from 5pm to 8pm. Music will be provided by Warren Gawley and Friends and refreshments will be served.

"Our holiday shows have always ranked amongst our most popular, says Bonni Haney, who along with Paul Hunt, hangs new exhibitions in the galleries. "Unlike most shows throughout the year, we don't have a unifying theme for this show. This results in a great variety of media and techniques, a little something for everyone."
Opening Reception was November 22.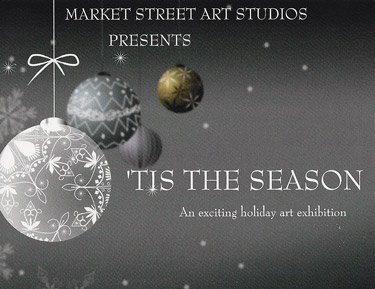 "Northern Lights," acrylic and watercolor by Dody Walter

Fine Arts League of Buffalo
61st Annual Fall Members Exhibition
(Upstairs Gallery)
In the Upstairs Gallery is Fine Arts League of Buffalo's 61st Annual Fall Member's exhibition. Founded in 1953, by a group of Buffalo Artists who felt that realistic work was being discouraged in favor of modern art, the Fine Arts League is dedicated to preserving realism including traditional, expressive, interpretive and contemporary realism.

Opening reception was October 5, 2014.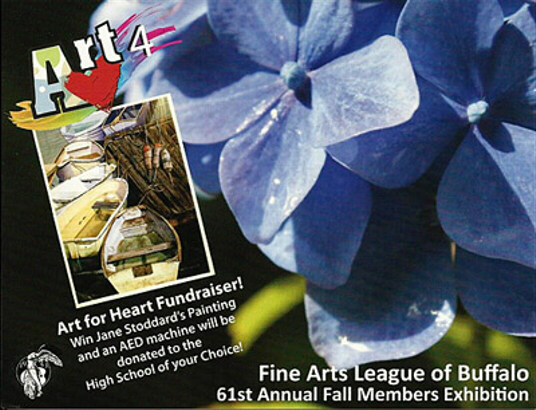 Buffalo Niagara Arts Association
Fall Exhibition
(Whalen Family Gallery)
In the Downstairs Gallery is the Buffalo Niagara Art Association's Fall 2014 Exhibition. The BNAA organizes two exhibitions every year in support of the visual arts and to offer opportunities to artists to exhibit their work in local galleries. Styles and techniques range from abstract to photo realistic.
Opening reception was October 5, 2014.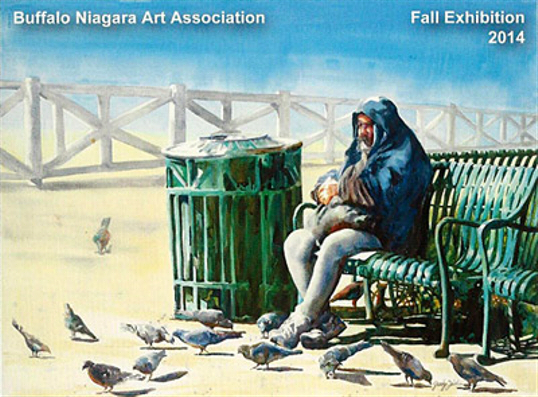 "Dinner with Friends" by Jody Ziehm

Nature Expressions - Works by Cindy Few
(Upstairs Gallery)
Meet the Artist Reception on Sunday, September 21 1:00-4:00 pm
Cindy Few is a local artist whose whimsical illustrations and paintings have helped her overcome life's hurdles and have inspired many in the process.
Cindy was present in the gallery for a reception on Sunday September 21, 2014 from 1pm to 4pm. Cindy has faced down many disabilities. Shespoke on how art has helped her do that. She will also talk about some of her upcoming projects including illustrating a new children's book.
Her work is reproduced on a variety of notebooks, journals, sketchbooks and cards. These are available in the Art & Soul Gift shop, at Crafts and Creations in Lockport and at the Museum of disability History in Buffalo.
Nature's Strokes II
Watercolors by Dody Walter
(Whalen Family Gallery)
An opening reception on Sunday, August 3rd, from 1 to 4pm welcomed a new exhibition to the Market Street Art Studios. Appearing in the Joseph Whalen Family Gallery is "Strokes of Nature II," works by Dody Walter.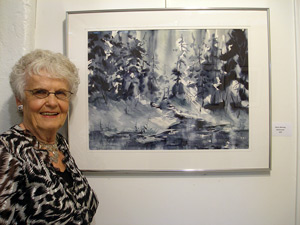 Dody Walter has been painting for over fifty-five years. She first started painting under the tutelage of Joe Whalen and from there grew into a professional artist. Miss Walter gets her inspiration from the beautiful countryside of Niagara County. She believes in free flow painting and mostly works in transparent watercolor and acrylics.

A signature member of the Niagara Frontier Watercolor Society, Dody has won numerous awards over the years and her work can be found in homes and offices throughout Western New York and beyond.
Sports Series 2013-2014
Watercolors by Joseph Buczkowski
(Brick Gallery)
"Sports Series 2013-2014" focuses on energetic portraits of athletes in varied sports. An artist and an engineer, Joseph Buczkowski brings a unique perspective to his works.

Joe, who began painting when he was ten, studied under Sister Mary Julia of the Sisters of St. Mary Namur (herself a former student of Raphael Beck) at St. Joseph's Academy and later under well known painter and art teacher William Storrs.

Buczkowski works primarily in watercolor because he is "delighted with the surprises that the medium sometimes brings. Being flexible and going with the flow is a key to success." Joe works out of the Crooked Fence Studios at the Market Street Art Studios and has long been an active supporter of the arts in Lockport and Niagara County.

Opening Reception was Sunday, June 22.

Belt Sander Race was held June 28, 2014!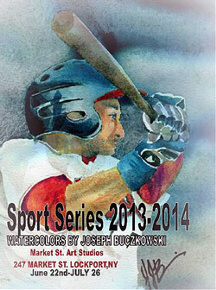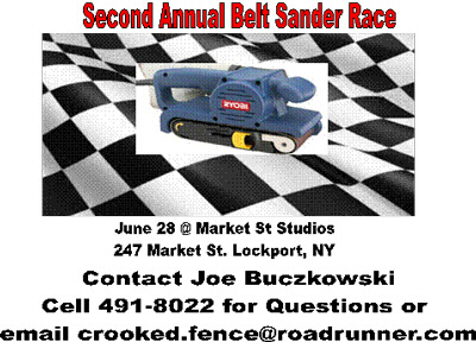 Jun 22 – Jul 26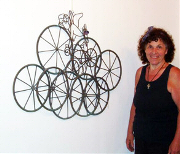 The Three D's: Metal work by
Donna Ioviero, Dennis Fulton Sears & Dennis Scherer
(Whalen Family Gallery)
Donna Ioviero enjoys art because "I like making people happy. As a sculptor and a gardener I have focused on creating both environmental and one of a kind artworks." She is the creator of the "Garden of Earthly Delights," a living outdoor gallery in Clarence.
Originally from Buffalo, Dennis Fulton-Sears earned his BFA at Daemon Collage in 1991. A strong foundation in drawing, photography, printmaking and ceramics has helped to refine his visual and conceptual style. He is currently working with recycled materials, mainly steel and iron, to create outdoor works of art, some of which can be seen in and around the village of Wilson where he currently resides.
Dennis Scherer has been a trained sheet metal journeyman since the 1970's. He began exploring the art of copper enameling in the 1990's and later began working with painting on galvanized metal.
Opening Reception was Sunday, June 22.
May 18 – Jun 15


Fine Arts League of Buffalo




61st Annual Spring Members' Exhibition




(Whalen Family Gallery)
Founded in 1953, by a group of Buffalo Artists who felt that realistic work was being discouraged in favor of modern art, the Fine Arts League is dedicated to preserving realism including traditional, expressive, interpretive and contemporary realism.
Opening Reception was Sunday, May 18.
Student Teacher Exhibition -
(Brick Gallery)
The Student/Teacher Exhibition features the work of Market Street Art Studios art teachers and their students. "Education has always been an important part of our mission," says Sally Bisher. "We have some excellent teachers here doing fantastic work with some emerging talents and we enjoy showing off their accomplishments."
Opening Reception was Sunday, May 18.
Apr 27 – May 10

Scott Reagan's Voices of Niagara
"The Future is The Past" (Brick Gallery)
"The Future is The Past," an interdisciplinary art exhibition that joins poetry with kinetic sculpture.
The exhibition, initiated by local poet and artist M. Scott Reagan, is the result of an experiment in community authorship that asked residents across the Niagara region to write something poetic about where they live.
The project, called Voices of Niagara, drew inspiration from the French Surrealist's experiments with collective authorship.
Over the course of a year, whole poems and poetic fragments were submitted by residents and displayed on the project website. These submissions were then stitched together to create four distinct "community authored" poems. The resulting poems reflect a tension between the individual voice (expressed in the first person) and the community voice (expressed in the second). They are expressions of a community exploring its identity, reflecting on its past, and projecting itself into the future.
The four poems are embodied in a kinetic sculpture which liberates them from the static confines of the page. The poetic lines are transcribed onto color-coded faces of rectangular blocks which rotate on a series of horizontal axes. This allows four poems to exist within a single plane, but requires an active effort from the viewer to read them. In the process of rotating the lines of poetry to access the whole text, the viewer is also freed up to become an author of sorts, remixing the lines to create new works.
The materials and techniques used to construct the featured sculpture were informed by both the subject matter of the submissions and the natural materials available to the region. Special attention was paid to sustainable practice.
Opening Reception was Sunday, April 27.
"The Future is the Past" was funded in part by a New York State Council on the Arts DEC Grant. For more information contact M. Scott Reagan at m.scottreagan@gmail.comor call (724) 968-6591. You can also visit www.voicesofniagara.com.
Whalen, Weld & Watkins
Works by Joseph Whalen, Mark Weld & Jeffrey Watkins

(Whalen Gallery)
The Market Street Art Studios is hosting an exhibition of three of Lockport's foremost artists, Joseph Whalen, Jeffrey Watkins and Mark Weld.

Joseph Whalen, who prefers to be called a painter rather than an artist, was first schooled in art by respected artist Sister Mary Julia S.S.M.N. (who herself was taught by Raphael Beck). He continued his studies at RIT including noted watercolorist Ralph Avery and completed his art education at the University of Buffalo, Niagara University and Buffalo State. He worked for time as a medical illustrator for Roswell Park and a technical illustrator at the Cornell Lab. Whalen spent thirty-five years as an art teacher in public schools and NCCC.
Jeff Watkins, a practitioner of the Plein Air (outdoors) style of painting has spent the past 30 years teaching public and private watercolor lessons including at the Birchfield-Penny Art Center. His work has been featured in many galleries and exhibitions.
Mark Weld is a self taught artist and a member of the Buffalo Society of Artists. He has exhibited in numerous shows including the Allentown Art Festival and the Adirondacks National Exhibition.
An opening reception was held on Sunday, March 30th from 1pm to 4pm with a wine tasting by Schulze Winery of Burt, NY.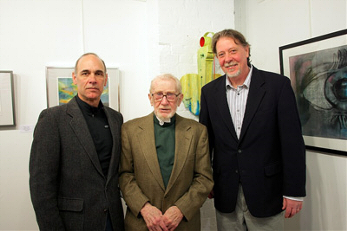 Photo: Jeff Watkins, Joseph Whalen and Mark Weld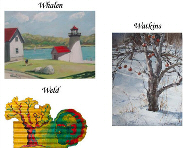 "Summer in Main" by Joseph Whalen
"Here to Serve" by Mark Weld
"Winter Apple Tree" by Jeffrey Watkins

BLACK AND WHITE EXHIBITION
With the possible exception of our annual Holiday Show, the Black and White shows generate the most excitement and buzz," says Sally Bisher, Director of the art studios.
To work only in black and white is a challenge for the artist. It forces them to express their thoughts and ideas without the use of the colors which are so fundamental to our view of the world. Only black, white and shades of grey can be used to express their vision.
Texture, rhythm and movement take on greater meaning as we are forced to perceive without the benefit of the color that normally enhances our everyday life. We must participate in the work by providing an emotional color of our own. All good art plunges us into our own experiences. A black and white presentation can make us delve even deeper."
Opening reception was Sunday, February 9th from 1pm to 4pm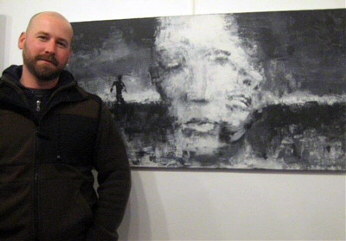 2014 First place award winner Dan Arnold's "Zombie," an acrylic work on canvas