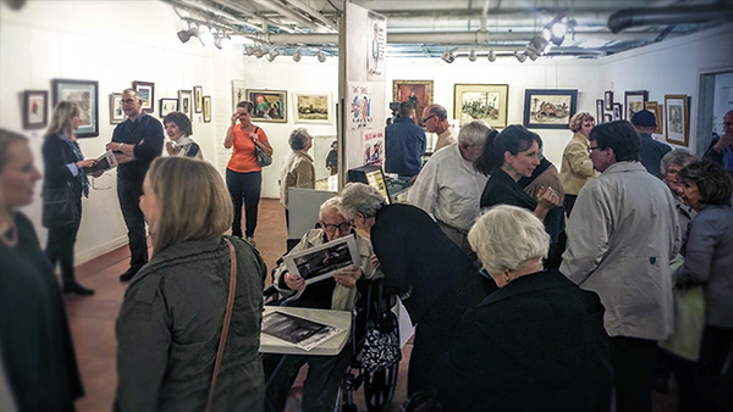 ART247 is a rich and diverse Arts Center overlooking the Historical Erie Canal in the designated National Historic District of Lowertown Lockport, NY. The Arts center originally founded as Market Street Art Studios by Art Hilger and Sally Bisher has developed a long history of providing arts and cultural education, lessons, and exhibitions to the Greater Niagara County community and beyond, as well as arts learning and studio spaces to regional artists. In January, 2016 ART247 became the guardian to ensuring the missions and goals of the Art Complex continue and grow.


Market Street Art Studios held many annual shows and exhibitions that continue with ART247:
Holiday Show
"The Holiday Show has always proved to be one of most popular shows," says Exhibition Director Bonni Haney. "The excitement of the approaching holidays is certainly a factor but I think it also has to do with the variety that the show offers. Most art exhibitions are themed, restricting the media and/or the subject matter. This exhibition has no such restrictions – the artist can display whatever they want to display. As a result, there is something here that will appeal to everyone's interests and taste."

The Studio Artist Holiday Exhibition opening reception was on Saturday, November 21st from 1pm to 4pm.

Artist Joseph Buczkowski in his studio at the Market Street Art Studios.
Whalen: A Legacy Works by Joseph Whalen

 (Whalen Gallery) 
This unique exhibit showcased over 75 years of work by Lockport Painter Joseph Whalen starting with a 1939 drawing from when he was just 11 years old. Although his body of work alone assures his place in history, his impact reaches far beyond his art.
His storytelling, humor, and knowledge of local people & history enhances that legacy, but the most important aspect of what he has given is the influence he has had on others. That part of what we have become due to his influence carries forth a living legacy which will continue to flourish for generations to come.
Although original works along with reproductions were on display, the exhibit included a wide assortment of Joe's work in other forms. Posters, logos, greeting cards, cartoons, and various advertising pieces walk you through decades of Joe's influence. Reproductions of several items are for sale, including a limited number of signed copies.
The original work included works on loan which were not for sale, however there were dozens of originals available for purchase including pieces completed in recent weeks. The historic display incorporated a variety of memorabilia from Joe's career provided by several sources including Joe and his family, various organizations, and some of Joe's friends.
Many of the painter's rarely seen sketches used as the groundwork for his paintings were on display and for the first time a selected number were available for purchase.
Jay Krull of the Niagara Art Trail said the show will be almost museum-like, with many things on display that "he produced over the years that will be unusual for people to see."
Read the full 9-21-15 article in the US&J.
Presented by The Niagara Art Trail and Market Street Studios.
Opening Reception was Sunday, October 4, 2015 from 1-4 PM. Wine Tasting by Flight of Five Winery and Chateau Niagara Winery.
Special Thanks to Joseph Whalen & the Whalen Family and the Niagara County History Center.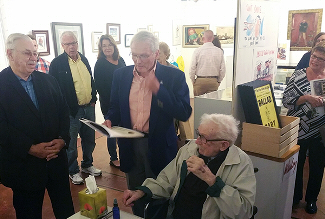 "Filtered Reality" Heather Grimmer

 (Whalen Gallery) 
"Filtered Reality" features works from the past 15 years of Grimmer's photography career. It will also feature a 156-page full-color magazine that offers an even more in-depth look at "Filtered Reality," the title of the exhibition. Copies of the magazine will be available for public purchase.
More about the exhibition in this article in the East Niagara Post.
Artist's website: www.hgdesign-studios.com
The opening reception was Saturday August 8th, 7pm to 10pm. This Exhibition runs until September 26th.
The artist had a "walk and talk" reception to discuss her work on Sunday, September 20.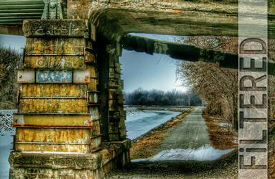 Pure Fun Skate Board Exhibition (Upstairs Gallery)
Tons of photographs and other skate ephemera were on display to stimulate your eyeballs. Also hors d'oeuvres and some beverages on hand to stimulate your stomachs. The hot-off-the-presses 25th Anniversary issue of Pure Fun Skate Zine and t-shirts were available for purchase and some giveaways too. This event was free to attend and all ages welcome.
More about Pure Fun Skate Zine on thier website: purefunskatezine.com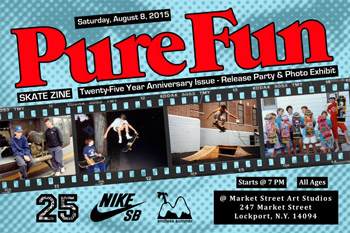 The Holly Brothers

 (Whalen Gallery) 
Brothers David and Geoffrey are both consumers at Opportunities Unlimited. They began taking art classes at the Market Street Art Studios about ten years ago. Their works include paintings, photography, pottery and mixed media.
The Holly brother's works will be available for sale and per their instructions portions of each sale will be donated to Opportunities Unlimited and the Sisters of Saint Mary Namur.
Opening reception was Sunday, June 21.
"Dump Truck" by David Holly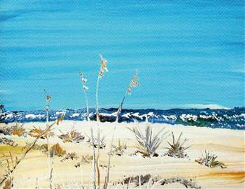 "Beach" by Geoffrey Holly
"We Remember Mama" a Retrospective of Ginny Baird's Paintings 

 (Whalen Gallery) 



"Our mom, sketched, doodled and drew a lot while we were growing up," says Susan, "there were a lot World War Two style legs and eyes drawn on the corner newspapers and scrap paper. But it wasn't until all of us grew up that she started painting. She attended a couple of night school classes but, mostly, she was a self-taught artist.
Ginny passed away shortly after her 90th birthday. Her work has never been exhibited before, but she has left behind a wonderful collection of art which her children are now delighted to share with the public.
Opening reception was Sunday, May 3.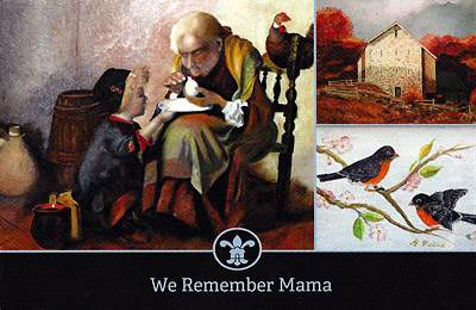 "Vacanti Arts" Works by Janet and Sam Vacanti

 (

Whalen Gallery) 

Janet has been making jewelry for over 35 years. She first trained as a silversmith in 1977 but experimented in different mediums trying to find her style. Attracted to both industrial artifacts and nature she found that she could emulate both their qualities by combining found objects with organic shapes and colors. Natural aged patinas and "priors" (secret past history) are what attracted her to using found objects and recycled metals. Her love of up-cycling materials has made her look at the world around her in a different way.
Sam Vacanti has been drawing as long as he can remember. "The first one I recall" say Sam, being a large random scribble on manila paper, the resulting shapes filled with bright colors. 'I see a bunny in there!' my sister opined. It was my first feedback from a sympathetic critic. She liked it. I loved that she liked it. However I saw a dragon. It is curious to me that 49 years down the line this experience is still the foundation of my picture making activity. The idea that a different set of eyes may see what I do not. It seems this is where the essence, the meat and the magic all reside."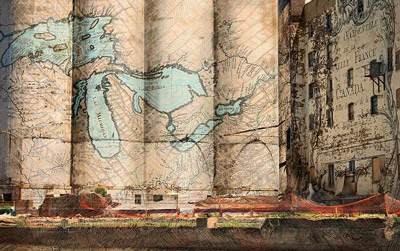 "Oo La L'eau," by Sam Vacanti
Opening reception was April 11.
Student Teacher Exhibition (Upstairs Gallery)
"This is an annual event for us," says Bonni Haney, who along with Paul Hunt hangs most of the shows. "We have some great art teachers here and we love to show them off as well as the wonderful work they do with their students. A good teacher acts as a guide, so that their influence can be seen in the student's work but does not dominate it. Rather, it blends with the student's own imagination to create something unique."
Hanging the Student-Teacher Exhibition
Some of the works for the Student-Teacher Exhibition
Finding The Moment - Explorations in Photography (Whalen Gallery) 
Popular photography exhibit returns to Market Street Art Studios. "We've held a photography show every two years," says Bonni Haney who oversees the hanging of the exhibitions "and its always proven to be one of our most popular attractions."
The show was open to all photographers and established names like Andrea Clare, Karen Gast and Robert Rimmer will be alongside newer names such as Richard Primo and Debbie Hasley. "The one thing they all have in common," according to Bonni, "is that they are all enormously talented."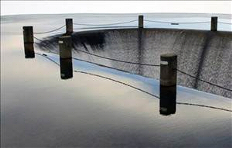 Richard Baird was the judge for this exhibit. Rich started out as a wedding and portrait photographer and has many years of experience in all aspects of photography. He has won numerous awards and is also known for his re-enactment photos. He recently began using special effects in his work.
Over one hundred and fifty people attended the opening reception. The winners of the "Finding the Moment" exhibition were announced at 2pm. 
Here is link to article in the East Niagara Post.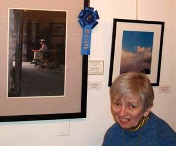 First Place: "Contemplation," by Karen Gast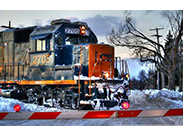 Second Place: "Single Track," by Heather VanHoose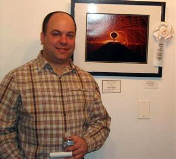 Third Place: "Steel Fire," by Keven Miller