POP ART | Exhibition 2021
Saturday, 2021-06-19 10:00 AM - Saturday, 2021-06-19 03:00 PM
ART247
exhibit, Call to Artists.
Artists, Photographers, Comic Book Artists, and Sculptures are asked to explore the Pop Art style and create an original Pop Art work/s of their own.
ENTRY DEADLINE 
JUNE 19, 3 PM.
Pop Art started with the New York artists Andy Warhol, Roy Lichtenstein, James Rosenquist, and Claes Oldenburg, all of whom drew on popular imagery and were actually part of an international phenomenon. Following the popularity of the Abstract Expressionists, Pop's reintroduction of identifiable imagery (drawn from mass media and popular culture) was a major shift for the direction of modernism. The subject matter became far from traditional "high art" themes of morality, mythology, and classic history; rather, Pop artists celebrated commonplace objects and people of everyday life, in this way seeking to elevate popular culture to the level of fine art. Perhaps owing to the incorporation of commercial images, Pop art has become one of the most recognizable styles of modern art. 
POP ART KEY IDEAS
BLURRED BOUNDARIES, "HIGH" ART / "LOW" CULTURE
By creating paintings or sculptures of mass culture objects and media stars, the Pop art movement aimed to blur the boundaries between "high" art and "low" culture. The concept that there is no hierarchy of culture and that art may borrow from any source has been one of the most influential characteristics of Pop art.  
EVERYTHING IS INTERCONNECTED
It could be argued that the Abstract Expressionists searched for trauma in the soul, while Pop artists searched for traces of the same trauma in the mediated world of advertising, cartoons, and popular imagery at large. But it is perhaps more precise to say that Pop artists were the first to recognize that there is no unmediated access to anything, be it the soul, the natural world, or the built environment. Pop artists believed everything is inter-connected, and therefore sought to make those connections literal in their artwork.  
"COOLLY" AMBIVALENT
Although Pop art encompasses a wide variety of work with very different attitudes and postures, much of it is somewhat emotionally removed. In contrast to the "hot" expression of the gestural abstraction that preceded it, Pop art is generally "coolly" ambivalent. Whether this suggests an acceptance of the popular world or a shocked withdrawal, has been the subject of much debate.  
ART'S PLACE AS A COMMODITY 
Pop artists seemingly embraced the post-WWII manufacturing and media boom. Some critics have cited the Pop art choice of imagery as an enthusiastic endorsement of the capitalist market and the goods it circulated, while others have noted an element of cultural critique in the Pop artists' elevation of the everyday to high art: tying the commodity status of the goods represented to the status of the art object itself, emphasizing art's place as, at base, a commodity. 
VISUAL VOCABULARY OF MASS CULTURE
The majority of Pop artists began their careers in commercial art: Andy Warhol was a highly successful magazine illustrator and graphic designer; Ed Ruscha was also a graphic designer, and James Rosenquist started his career as a billboard painter. Their background in the commercial art world trained them in the visual vocabulary of mass culture as well as the techniques to seamlessly merge the realms of high art and popular culture. 
POP ART: 
8 ARTISTS EVERY ARTIST SHOULD KNOW:
Keith Haring
Claes Oldenburg &
Coosje van Bruggen
Robert Raucshenberg 
Richard Hamilton
Roy Lichtenstein
Peter Blake
Andy Warhol
David Hockney 
_______________________________________________
Reference: The Art Story | http://www.theartstory.org/movement-pop-art.htm
Resources:  https://www.creativebloq.com/art/pop-art-8133921
---
TO ENTER THE SHOW: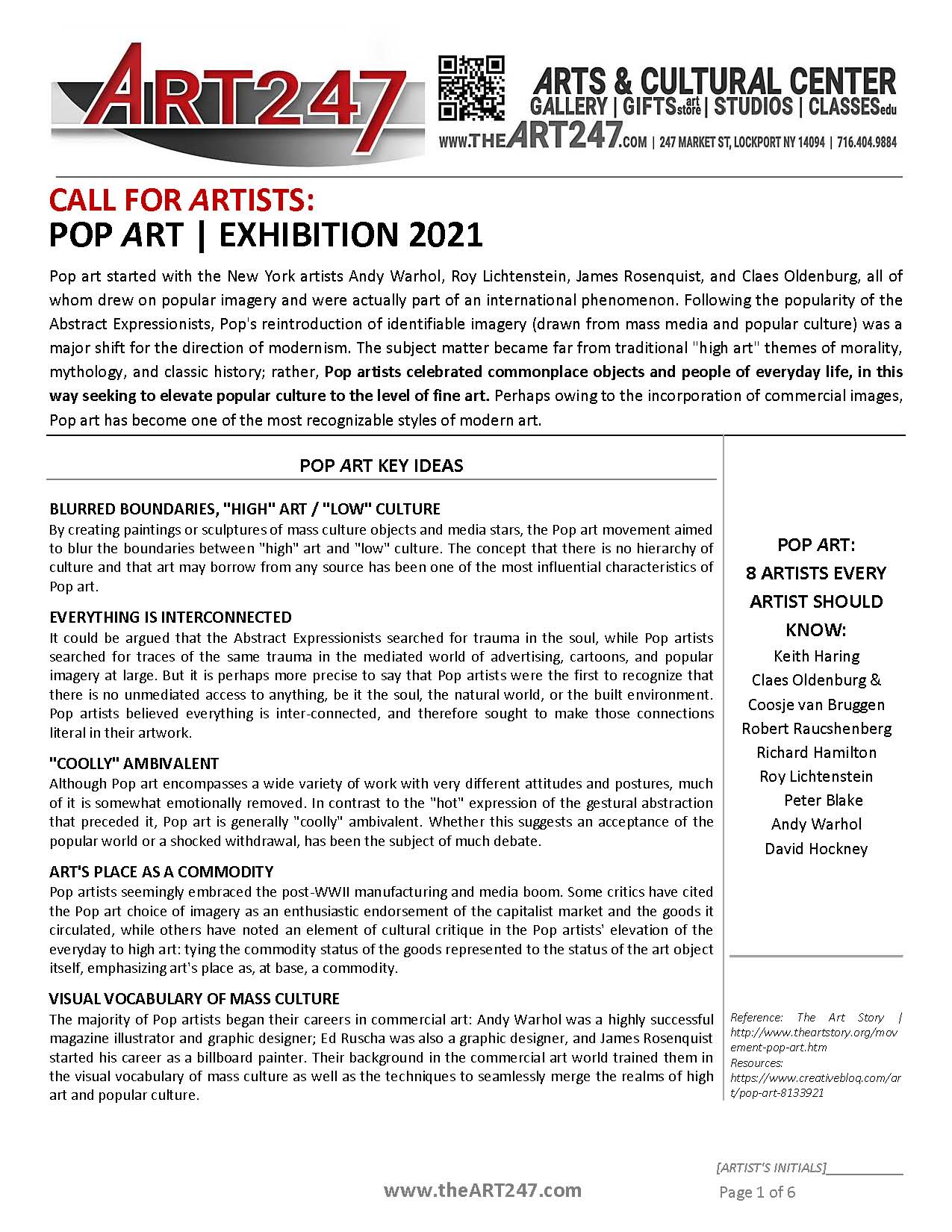 Read all info on this page, and complete the entry/application form/s in the Submission Entry Portal. Provide at least 1 photo samples of each art/work being submitted, with submission fee, and all completed info. 
Entry Procedure:
Entry forms with samples/copies of work are preferred to be submitted via this online entry portal. You may submit up to four entries.  Entries should include two dimensional and/or three dimensional work (Sculpture, Painting, Colored Illustration, Photography, Multimedia, Finished Storyboards etc.,) in the Pop Art style.  All entries must be original to the submitting artist. Work must be professionally mounted and framed.  Fees: The fee for entry is $35.00 to be submitted with your entry.  Please note: this Submission Entry Portal will automatically shut off at the deadline date and time of June 19 at 3pm, no applications will be able to be submitted after this time.
Judging and Awards:
The entries will be juried by ART247 & Guest Jurors for 1st, 2nd, & 3rd place. Viewers Choice Award will be chosen at the opening reception by reception participants. All show winners will be invited to Exhibit at our year-end Award Winners Show November 20 - December 23, 2021, and recognized at our ART247 / Buffalo Niagara Arts Awards Gala on November 20, 2021, 6pm.  
Presentation:
Illustrations, Storyboards, and Photography must be matted and framed. Mats must be black, white or gray tone. Plexiglass is required for artwork 18" x 24" or larger. Frame color is restricted to black, white, gray or silver. No uniframes that leave the edges of the glass exposed will be accepted. Oils and acrylics must be framed or have the edges of the canvas neatly finished. All two dimensional work must have screw eyes and wire in place ready for hanging. No saw tooth or plastic clips will be accepted. All 3 dimensional work and sculptures must be able to stand unassisted on a flat surface or pedestal.
DETAILS and ONLINE ENTRY PORTAL:
Pop Art Exhibition 2021 Calendar Dates
Entries due between June 16 - 19, 2021
Notification of Inclusion given by June 23, 2021
Drop off June 24 - 26, 2021 10am - 3pm
Exhibition Opens July 3, 2021
Opening Exhibition Reception July 10, 2021 11am - 2pm
Viewer's Choice awards will be announced during the event.
Exhibition closes August 1, 2021
Pick up date August 7 & 13 - 14, 2021